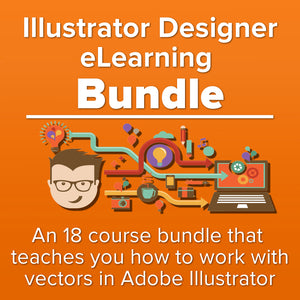 Create logos, icons, sketches, typography and other vector art with Adobe Illustrator.
The courses in this bundle include:
Make a Game Background in Adobe Illustrator for Beginners
Create Flat Design Spaceships in Adobe Illustrator
How To Design A Fortune 500 Logo in Illustrator
Adobe Illustrator Essentials for Character Design
Web design: How To Design a Website in Illustrator
How to create flat design icons in 15 minutes in Illustrator
Designing A Website in Photoshop, Illustrator (& GIMP)
Top 10 reasons to use Illustrator for web design
Pen Tool : Master Pen Tool In Illustrator and Photoshop
Getting Started with Illustrator CC
Character Design For Animation in Illustrator
Illustrator CC - Master Adobe Illustrator CC the Essentials
Logo design: How To Design an Awesome Logo in Illustrator
Web Design Fundamentals in Illustrator
Every Adobe Illustrator Tool Explained
How To Draw Your Illustration Using Pen Tool in Illustrator
Every Illustrator Effect Explained
Adobe Illustrator Fundamentals
What You Get
LIFETIME access to all courses and content
18 courses
100+ hours of content
All courses are redeemed on AcademyHacker.com. Academy Hacker is an elearning course marketplace for hackers, developers, cyber security pros, and tech nerds.
Make a Game Background in Adobe Illustrator for Beginners
Create Flat Design Spaceships in Adobe Illustrator
How To Design A Fortune 500 Logo in Illustrator
Adobe Illustrator Essentials for Character Design
Web design: How To Design a Website in Illustrator
How to create flat design icons in 15 minutes in Illustrator
Designing A Website in Photoshop, Illustrator (& GIMP)
Top 10 reasons to use Illustrator for web design
Pen Tool : Master Pen Tool In Illustrator and Photoshop
Getting Started with Illustrator CC
Character Design For Animation in Illustrator
Illustrator CC - Master Adobe Illustrator CC the Essentials
Logo design: How To Design an Awesome Logo in Illustrator
Web Design Fundamentals in Illustrator
Every Adobe Illustrator Tool Explained
How To Draw Your Illustration Using Pen Tool in Illustrator
Every Illustrator Effect Explained
choosing a selection results in a full page refresh
press the space key then arrow keys to make a selection